The Right Stuff....
Download the latest Newsletter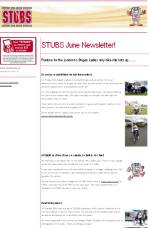 Other News
Gallery Our new photo gallery is now up and running. It links into our Facebook pages, and shows a variety of photos from 2008 to the present. Its divided into four albums, with photos from our Events, from two seasons at London Wasps, and from three seasons at Harlequins. We've also put together an album called "STUBS Gems", our best photos that summarise our work and ethos.
Coming Up..... a new range of funky STUBS merchandise. Watch this space for details.